Cry out in prayer
for unity & peace
We believe God is calling all people of faith to demonstrate His love by pushing back against hatred and division. If we humbly cry out to Him in prayer, turn from sin, and forgive one another, He will hear us and heal our city, bringing unity and peace to Charleston for His glory.

If we respond to this calling in obedience, we will see healing like we've never seen before and revival beyond anything we can ask or imagine.

The solution is simple, yet the task before us will be difficult.
One New Humanity Vision
We exist to proclaim and pursue the Lord's work of bringing repentance, forgiveness, reconciliation, and
unity

to His people, for the manifestation of His glory in our Lord Jesus Christ.

Repentance
We turn from sins of racism and resentment deeply rooted in our communities, churches and families.
Forgiveness
While we were yet sinners, Christ died for us, so now we too can forgive those who have sinned against us.
Reconciliation
While forgiveness doesn't erase the past, it allows our wounds to heal so we can move forward as one.
Unity
We will experience unity when we repent of our sins, ask for forgiveness, and heal our wounds through reconciliation.
For he himself is our
peace,

who has made us both one and has broken down in his flesh the dividing wall of hostility…that he might create in himself

one new man

in place of the two, so making peace.
Ephesians 2:14-15
Event Details
Let's Begin Together.
Join us at our inaugural event to pray for our city, and to gather in unity as we celebrate what God has already done and what He will continue to do through His people. Men and women of faith from all classes, races and denominations will join together with one heart and purpose to seek the Lord's blessing on our land.
Prayer Procession
Meet at 2pm • Battery Park
The procession will include seven notable landmarks in downtown Charleston where the wounds of our past will become scars of healing through unity, love and compassion. Each landmark will include theatrical commentary and performances to depict moments in history, liturgical dancers and singing in unity, as we pray for healing and peace.
Jubilee Assembly
Meet at 4:30pm • Francis Marion Square
We are expecting God to show up in a powerful way as we meet in one accord… to seek Him for healing and revival for our city. Even if you don't participate in the procession, we welcome you to this powerful event.
We will fellowship. We will break bread. We will sing. We will dance.
We will gather in one accord for Remembrance, Forgiveness, Repentance, Reconciliation, Unity and Revival.
Gather
As procession participants arrive at Marion Square, they will be greeted by local vendors, food trucks and entertainment.
Pray
The assembly will begin with a message from one of our founders, the Rev. Anthony Thompson, and special guests to lead us in prayer.
Sing
The jubilee will include powerful music as we unify our voices in praise and worship with local choirs and bands.
Blow the trumpet in Zion; consecrate a fast; call a solemn assembly; gather the people.
Joel 2. 15-16
How to Help
There will be a large turnout to this event, because we believe there is a hunger for healing and revival. Because of that, we will need a tremendous amount of support.
Volunteer
We have several opportunities to help with this event. If you have a passion for serving or have specific skills that you can contribute, let us know.
Sign Up
Donate
We are raising funds to cover the costs of the event, from promotion to production, and all the other costs that come with an event of this size.
Give Now
Become a Sponsor
Church Support
We are praying that every church in the Lowcountry and all of South Carolina will be an important part of making this event a success.
Let's Talk
You can't go back and change the beginning, but you can start where you are and change the ending.
C.S. Lewis
About One New Humanity
Our Story
Sunday, May 30, 2020, during protests against racial injustice, two church leaders from different backgrounds and denominations, yet one faith, came together with their congregations to preach a "sermon duet" about reconciliation. They asked what we can do in Charleston to heal the racial divide in the city. There was a deep cry for peace and unity, but how?

Through a series of meetings of asking God for direction, along with an honest discussion, One New Humanity Charleston was formed. The Prayer Procession and Solemn Assembly would then become the launching point for the organization, as it will bring together thousands of people from diverse backgrounds to pray for healing, peace and unity through repentance, forgiveness and reconciliation.

Charleston may have a shameful past, but it has also seen revival before. We believe our best days are ahead. While some seek to divide, we will unite. We will answer hatred with love and compassion. We work toward reconciliation, not retribution. Forgiveness is the greatest gift we have ever received, and it is how the wounds of our history will be healed. If we humble ourselves and repent, then ask God for forgiveness, He will heal our land and bring revival again!
READ FULL STORY ››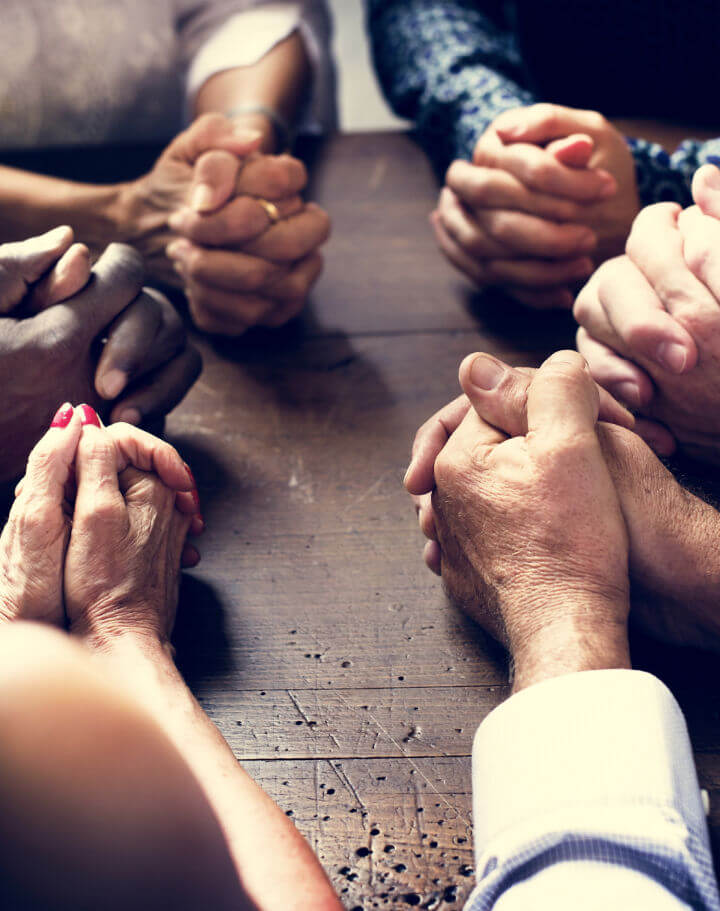 Through Repentance, Forgiveness, Reconciliation, and Unity, we will be One New Humanity.
Our Leadership
Rev. Anthony Thompson
Founding Chairman
Dr. Anthony Thompson Jr.
Director of External Affairs & Programs
Michael Cooper
Public Relations & Fundraising
Raphael James
Board Member
Tommy McQueeney
Board Member
Shenece Blie
Board Member
See Complete Staff Listing
One New Humanity Staff
Dr. Wayne Singleton
Minister of Music
Charles Miller
Minister of Music
Blondelle Gadsden
Director of Prayer Teams
Rev. Anthony B. Thompson
Executive Director
LaQuetta McCormick-Smith
Budget & Finance
Attorney Michael Cooper
Fundraising & Public Relations
Anthony B. Thompson, Jr
Director of Church & Community Engagement
Shenece Blie
Volunteer Coordinator
Karyn Taylor Mims
Youth & Young Adult Coordinator
Julian Gooding
Director of Communications &Videography
Miguel Brown
Communications
Raphael James
Communications
Advisory Council
The Rev. Dr. Timothy George
The Rev. Dr. Marshall Blalock
The Rev. Craig Tuck
Legal Council
Steve Schmutz, Attorney at Law